Aquatic
facilities
Work. Play. Rehab.
Make a splash in our range of aquatic facilities at BALC!
Featuring four indoor pools, spa, steam room, plus Mr Froggy the frog slide, there is sure to be something for every member of the family at BALC.
Whether it's learning to swim or rehabilitation, leisurely play or distance training, we have the facilities to support you.
Lap lanes and recreational space is always available in our 25m and 50m Pools, or feel free to mix it up with a steam and spa session.
If you need help to manage a chronic condition or an injury, our Multipurpose Pool will be a valuable addition to your existing therapy.
We also have an electronic pool lift for patrons to access our aquatic facilities if required.
Appropriate swimwear is to be worn at all times when using aquatic facilities. Please ensure babies and toddlers are wearing swim nappies when in our pools. Read our pool rules.
Learn To Swim Pool
Whether its learning to swim or leisurely play our Learn To Swim Pool is perfect for the little ones.  It features a beach entry, Frog slide and our playful tipping buckets operate when no swimming lessons are in place.
The Learn To Swim Pool has a depth of 0.2m at beach entry, increasing to 1m at the deepest end and sits between a temperature range of 31-33 degrees.
25m Pool
Our 25m Pool is at a gradual depth of 1m increasing to 1.8m and sits at an average temperature of 27 degrees.  Despite being home to many group fitness classes and swimming lessons, we aim for a minimum of at least two lanes open for public use at all times.
The space offers convenient access to family and group change areas, as well as being in prime position for the original grandstand which seats 250 people.
50m Pool
There are many key features of our 50m Pool space, in particular a design allowing for best practice DDA features.  The pool itself has ramp access, is a constant depth of 1.85m, an approximate temperature of 27 degrees, and features a 2m movable boom.  The boom allows the pool to be divided into 2x 25m pools when required, or to create a 33m pool for use as a water polo venue.
In order to cater for large events, the space includes a group entry, retractable seating for 550 people and group change rooms.
Although the 50m Pool is available for hire, we aim to have a minimum of three lanes open for public use at all times.
Multipurpose Pool
The Multipurpose Pool is suitable for a wide range of patrons and is used for a variety of programs and services.  In particular, there is a designated space for gentle/rehabilitation exercises in warm water, with a depth of 1.4m and an approximate temperature of 34 degrees.
A ramp divides the pool into two sections with handrails suitable for people with mobility concerns or using a wheelchair. Wheelchairs suitable for water-based use are available or patrons are welcome to bring their own equipment.
Space within the Multipurpose Pool is available for hire and can cater groups such as private physiotherapists and sporting groups. This space is also used for swimming lessons.
Steam and Spa
Rest and relax with our steam and spa facilities.
The steam room has level access and a wide door suitable for wheelchairs. It provides a humid environment which can help improve blood circulation and alleviate some respiratory conditions.  The heated atmosphere can assist in detoxing the body through increased perspiration.
The spa seats approximately 12 people, has a depth of 0.9m and an approximate temperature of 36 degrees. There is a hoist available to assist getting in and out of our spa.
Aquatic Safety
Safety is of utmost importance when mixing people and water in a public environment.
Whilst we hold accountability in providing a safe environment, our patrons also hold some responsibility to ensure everyone can have a fun time.
Please read up on the Watch Around Water policy relating to parent/guardian supervision of children whilst attending our Centre.
Watch Around Water
While it's important to have fun, safety is essential around the water.  At the BALC we have implemented the Watch Around Water Policy, as follows:
Children UNDER 5 must be accompanied into the water and remain within arm's reach at all times.
Children UNDER 10 must be clearly and constantly visible and remain directly accessible.
ALL CHILDREN must be ACTIVELY SUPERVISED at ALL TIMES
Children under the age of 5 years are required to wear a PINK wristband whilst swimming at BALC. Children between 5 and 9 years are required to wear a YELLOW wristband whilst swimming.
Children of any age will be removed from the water if they are unsupervised or if the lifeguard is concerned for their safety.
Group attendance ratios
When attending BALC with a group, the following ratios are required:
Children UNDER 5 years – one adult per two children
Children 5 – 10 years – one adult per four children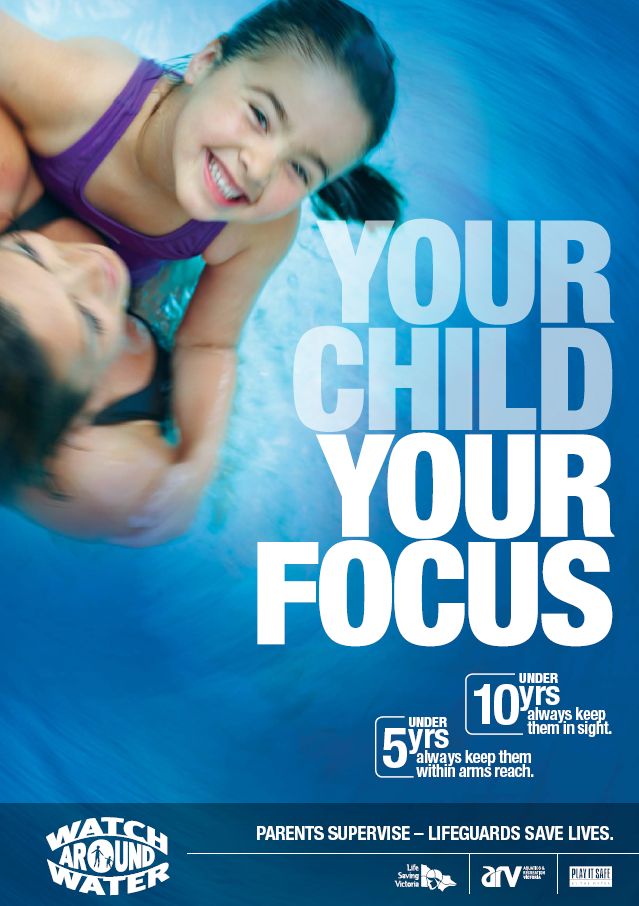 Lifeguards
We wouldn't be here without them, so say G'day next time you're in!
Our lifeguards are trained in a range of water safety, swimming, lifesaving and resuscitation skills. They have the skills and knowledge to handle a variety of situations. Above all, our lifeguards save lives.