Meet our personal trainers
We have a diverse range of personal trainers available at BALC for one-on-one or small group training sessions. Read more about our personal trainers below.
To enquire about availability and session pricing, email balc@ballarat.vic.gov.au or speak to a member of our Customer Service team in Centre.
Our Health Club is staffed during opening hours, with a member of the team available to answer any questions you might have during your workout.
Billy Gianacopoulos
Billy has been at BALC for 4 years after completing a Certificate III & IV in Fitness.
Billy's areas of expertise include human movement, strength and conditioning, mobility and pilates. His personal fitness interests include all types of physical training from cycle classes to gymnastics and strength training. Billy grew up playing soccer, then moved across to boxing and is now enjoying mixed martial arts and Brazilian Jiu-Jitsu. Outside of his work in the Health Club, Billy enjoys fishing and camping.
"The body will become what you do or don't do."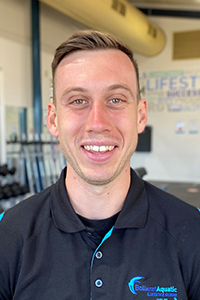 Emma Donald

Emma has been working in the fitness industry for the past eight years. After having her two beautiful little girls she decided she wanted to take on a role that helped make a positive difference in the lives of others, through inspiring them on their health and fitness journey. Emma is a passionate and committed coach that loves nothing more than seeing her clients and members reach their personal fitness goals, no matter what their goals are. She strongly believes that the body always achieves what the mind believes!
Not only is Emma a qualified personal trainer and group fitness instructor with her Certificate III and IV in Fitness, she is also a qualified Level 2 Recreational Running Coach with Athletics Australia. With a passion for long distance running she has completed more half marathons than she cares to count and has just completed a double marathon to raise awareness for mental health and Beyond Blue. Her specialities include women's and children's fitness as well as aged populations.
In Emma's spare time you will find her spending quality time with her beautiful family, she loves camping and being in the bush and you might even spot her running one of the many local trails around our lovely Ballarat.
"The only person you should try to be better than, is the person you were yesterday!" – Matty Mullins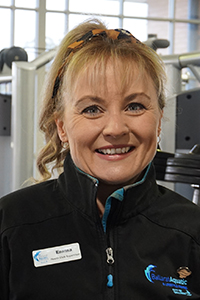 Sarah Condous
Sarah is qualified in Cert III & IV Fitness Instructor/Personal Trainer. She is also a qualified Pilates and yoga instructor and teaches various classes on the Group Fitness timetable at BALC.
With a keen interest in combining fitness and nutrition, she completed the Metabolic Precision nutrition course in 2012. Her areas of interest and skills are directed towards improving strength, building/maintaining muscle mass, core stability and mobility in all ages with an emphasis on correct technique. With a background in nursing, Sarah has a sound knowledge of acute and chronic conditions that may need to be considered for clients when training.
Fitness Philosophy – consistency is key…if you don't use it you lose it!