Want to learn a little bit more about our new Stages Flight class? Read our FAQ to find out more… and don't forget to try out a Stages Flight class for yourself! Available every day on the Autumn 2018 timetable. Download your copy here.
What is FTP and how is it calculated?
FTP stands for "Functional Threshold Power", which sounds complicated, but really just means the highest effort you could sustain for a long period of time without burning out. Instead of leading you through an hour or longer workout to find this point, your instructor in an FTP class will instead guide you through a shorter class to perform a timed effort at a high, but sustainable effort.
In order to calculate your FTP, Stages Flight will take the average power of your FTP test and subtract a percent. For a 20-minute test, for example, 95% of your average power is used for your new FTP. An accurate FTP will ensure that you are able to get the most out of your workouts with power by setting your zones correctly so that efforts are not too hard or too easy.
How do I update my FTP?
Your instructor will guide you through a FTP test at the start of each class and then Stages Flight will calculate your FTP based on your performance in this test. Having an accurate estimation of your FTP entered here will help ensure you aren't going too hard or too easy in your workouts.
What are the power/color zones used in Stages Flight?
Stages Flight uses color coded zones based on FTP (functional threshold power) to help guide you through intensity levels based on color. The gauges within the class will change colors based on where you are riding in relation to the FTP set in your profile.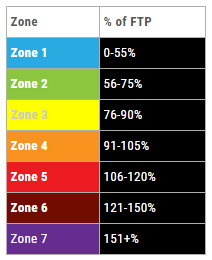 How does the Stages Indoor Cycling bike measure power?
The Stages Power meter can read the rider's actual power through a sensor attached to the crank arm. Unlike other bikes that include estimated or calculated values, Stages Flight rely on a direct sensor to measure the rider's pedaling force (for accuracy up to +/- 2.5%). From this sensor Stages Flight can broadcast power and cadence to be collected by the Stages SIC1 console or your own personal device (via Bluetooth or ANT+) so you can accurately record your workout and track your progress.
What size riders can use the Stages Indoor Cycling bikes?
The StagesFit system on the Stages Indoor Cycling bikes can accommodate a large range of heights, from approximately 4'10" to 6'10". Using our FitLoc system, the bikes are quickly and easily adjusted to accommodate a range of riders. The maximum user weight is 158kg.
How does the Stages Indoor Cycling bike calculate speed?
When paired with the Stages Power meter and the Stages console, our indoor bikes will display and record both speed and distance. Unlike other indoor bikes that equate flywheel rotation speed with theoretical outdoor speed, which is easily manipulated by lowering the resistance, the Stages Indoor Cycling bike uses the rider's direct measured power data to calculate the speed that your current power output would have you riding at if you were riding outdoors on a flat surface.
By using this more accurate calculation, the speed and distance on your indoor bikes will be accurate to what you would ride outdoors (without any major wind or any significant incline/decline). This realistic number is especially helpful when determining pacing if you ride outdoors and your distance is accurate enough to combine with outdoor rides when tracking mileage.
How do I save my rides when I work out on a Stages Indoor Cycling bike?
To save your data while training on a Stages Indoor Cycling bike that features the console, all you need to do is insert a USB stick at the beginning of the ride (while USB is flashing on the console screen) and your data will be recorded. The file on the USB will be in a .CSV format file which can be used on training websites to help track your fitness goals.
Rides can also be saved to fitness watches and cycling computers compatible with ANT+ or Bluetooth 4.0 cycling power profiles, as well as iOS and Android fitness apps for mobile devices that allow pairing with a power meter.
What fitness metrics can I track when riding on the Stages Indoor Cycling bikes?
The Stages console displays power (W), cadence (rpm), heart rate (optional ANT+, or standard 5kHz –  HR strap required to pair to the console), speed, and calories (kJ) burned as current data and average data for each interval. Users can simply press the "Stage" button to reset each interval to see averages for their effort. Power and HR sensor data can also be tied to compatible mobile apps to record data to your favorite fitness app.
How do you adjust the resistance on the Stages Indoor Cycling bikes?
The Stages Indoor Cycling bikes include a resistance knob adjustable to incredibly fine changes in resistance, as well as the proprietary SprintShift lever for rapid resistance adjustments in two "macro" increments. The resistance system uses an eddy current brake and no brake pads, for a frictionless resistance system.